Introduction to Statistical Methods
Professor Russell T. Hurlburt
Teaching Assistant Bailey Way
Syllabus--Spring 2022

PSY210: Introduction to Statistical Methods
Course Goals and Overview
Course goals:
to acquire an understanding of basic statistical concepts;
to be able to perform accurately basic statistical computations;
to demonstrate your understanding by providing "eyeball-estimates" of all statistics before computations are performed.
Course material:
The textbook is Hurlburt, R.T. (2017). Comprehending behavioral statistics (6th ed.). Dubuque, Iowa: Kendall Hunt.
Lectlets are short, interactive, audio/visual lectures delivered across the Internet from the Personal Trainer site (access included free with your textbook). These lectlets are asynchronous -- available any place and any time you have access to the Web.
Exams:
The course exams take place according to a fixed schedule -- that is the exams are not asynchronous.
Exam dates (2022): Tuesday February 1, Tuesday February 22, Thursday March 24, and Tuesday April 19
Exam times: Exams may last 75 minutes. You must begin the exams between 8:00 a.m. and noon on the assigned date.
Exam administration: Exams for vaccinated students will be administered in a live proctored location on the UNLV campus. Unvaccinated students or students who are remote from Las Vegas may take the exams though ProctorU, which will charge you approximately $25 for this service.
Calendar:
The course calendar can be found here.

PSY210: Introduction to Statistical Methods
Who Should Take This Course?
Anyone who meets the prerequisites and who is eligible to take a course at the University of Nevada, Las Vegas may take this course. You do not need to be physically present in Las Vegas because the entire course will be available at any time and any place served by the Internet.
Students who are vaccinated for COVID-19 will take proctored examinations on the UNLV campus. Uvaccinated individuals may take examinations through ProcorU, which will charge you approximately $25 for this service.
Prerequistes are Introductory psychology (PSY101) and college algebra (Mat 096, 124, or 126 or satisfactory placement on the mathematics pretest).
Because there is no in-person contact, you should recognize that success in this course requires that you be self-motivated.
Furthermore, your success in this class relies heavily on your ability to read and understand the textbook. There will be short lectures ("lectlets"), but
some of the material in this class will be presented only in the textbook
. (Students generally find the textbook to be very clear and self-explanatory.)
For students who are COVID-19 vaccinated, exams will be administered in a live-proctored location on the UNLV Campus. Alternatively, exams may be taken anywhere you have a computer with a broadband internet connection, a webcam, and a microphone, administered by the third-party provider ProctorU. ProctorU charges for this service (about $25 per exam). ProctorU examinations will be videotaped, and those videotapes may be examined by employees of UNLV or their designees.

PSY210: Introduction to Statistical Methods
Computer Equipment You Will Need
Computer requirements are:
Any computer with broadband access to the Internet. Windows or Macintosh computers are OK. However, the exams are *not* accessible with a Chromebook.
A webcam and microphone. (Check your webcam here; and check your microphone here).)
The computer must have the ability to play audio through speakers or headphones.
If you are using a public computer (as in a computer lab on campus), you will need to bring your own headphones to hear the audio.
If you will take your exams using ProctorU, check with ProctorU to be sure your computer meets their requirements. A public computer will most likely *not* be adequate.
If you do not have access to a computer that meets these requirements, you may be able to borrow a laptop and/or webcam from UNLV.
Contact the UNLV library
technology loan program
. Alternatively, you can use computers in the UNLV
open computer labs
or at the
UNLV libraries
.

PSY210: Introduction to Statistical Methods
Textbook and Personal Trainer Software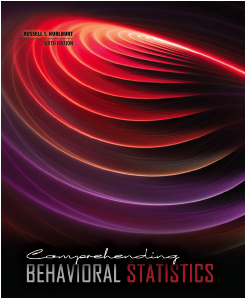 TEXTBOOK:
Hurlburt, R.T. (2017).
Comprehending behavioral statistics
(6th ed.). Dubuque, Iowa: Kendall Hunt. ISBN 9781524904654. This text may be purchased from the bookstore or online.
You must use the sixth edition
; previous editions will not provide access to
Personal Trainer
. You may use either the printed copy or the ebook,
which are available here
(you may install an ebook on two computers and two hand-held devices; access disappears after six months). Both the printed copy (for the original purchaser) and the ebook include free access to the
Personal Trainer
website. The printed book is also available at the bookstore.
The
Personal Trainer
website is provided free of charge to the original purchaser of the textbook. If you purchase a used book, you must purchase the website-only
Personal Trainer
(see next section).
PERSONAL TRAINER SOFTWARE:
Hurlburt, R. T. (2017).
Personal Trainer
6.0. Dubuque, Iowa: Kendall Hunt. Access to this site is included free with the sixth edition of the textbook (original purchaser) or ebook and operates on both Windows and Macintosh computers. The site includes a complete set of lectlets, the eyeball-estimation and computational program ESTAT, the labs and quizzes, and DataGen, statistical explorational software. Here is the
Personal Trainer
navigation bar:
If you are not the original purchaser of the textbook, you must purchase (for $77.10) the website-only version of
Personal Trainer
at
https://he.kendallhunt.com/product/comprehending-behavioral-statistics-1
.
You must register for
Personal Trainer
software by going to
khpcontent.com
(you will need the access code from your textbook). Follow the instructions on the inside front cover of the textbook or the ebook email.
CALCULATOR:
A calculator is required for this course. A $5.00 version that has a square root key and a single memory function is adequate. Calculators with special statistical functions are permitted, but you will be required to show your work anyway.

PSY210: Introduction to Statistical Methods
Class
This Online Education course has no live classes. The lectlets take the place of lectures.

PSY210: Introduction to Statistical Methods
Registration and Email
Registration:
If you have the proper equipment installed,
and you can be present for the exams on the dates specified,
register with the same registration procedure you would use for any other UNLV course.
Email:
You are responsible for maintaining the ability to receive timely emails from me. WebCampus probably uses your RebelMail (unlv.nevada.edu) address. If you do not check that account daily, have your RebelMail forwarded to an account that you do check daily.
To find out what WebCampus Canvas thinks your email address is:
Open WebCampus. Click
Account
(the picture logo at the upper left). Then click
Settings.
Make sure the
Default Email
contains an email address that you monitor frequently, or forward mail to from that address to a more convenient one.
To have your RebelMail forwarded to some other account:
Launch RebelMail, click the gear at the upper right, click
Settings
, select the
Forwarding and POP/IMAP
tab, click
Add a forwarding address
.
To control spam, for example, in RebelMail (gmail):
Click
Settings
(the gear icon at upper right) Click
Settings
Select the
Filters and Blocked Addresses
tab Click
Create a new filter
(at the bottom center) In the
From
cell type notifications@instructure.com Click
Create filter
Select
Never send it to spam
Click
Create filter
Email addresses:
Professor: Dr. Hurlburt at Russ@unlv.nevada.edu
Teaching assistant: Bailey Way at wayb1@unlv.nevada.edu
Send written exams to: psy210.1002@gmail.com
Send homework to: psy210.homework.1002@gmail.com

PSY210: Introduction to Statistical Methods
Lectlets
A 'lectlet' is Dr. Hurlburt's attempt at creating a lecture-type environment optimized for asynchronous learning. Dr. Hurlburt has been building lectlets since 2000. They have these advantages:
Short: Specifically targeted at one topic
Always ready: You can hear the lecture at your convenience
Repeatable: You can listen again if you desire
Controllable: If an interruption occurs or you lose concentration, you can pause and/or rewind (try that in a classroom lecture!)
Helpful for people with special needs: Volume can be individually adjusted by the hearing impaired; rate of presentation can be controlled by the those for whom language is difficult; repetition is easy for those with attention difficulties; and so on

PSY210: Introduction to Statistical Methods
Advice from Former Students
Near the end of semesters, I ask students who were just completing PSY210 (both live classroom and Online Education) whether they had any advice they would like to share with incoming students. Was there anything that they wished they had known at the beginning of the semester? Here's what they said, basically unedited...
Here's my piece of advice to future statistic students: Do the homework!
--Amy
This is the first method that I have ever used to truly learn statistics. If you follow the plan as he has outlined you will do well. The lectlets are great, the book is well written, informative but not dry, and the quizzes keep you on your toes. Do not get behind, do the work assigned and enjoy an understanding of Statistical Methods.
--Alan
If you stay on top of everything there is no way you won't understand what is going on. Read the book, listen to the lectlets and take advantage of everything offered on the Personal Trainer. If you keep up with the syllabus there is no way you will fail.
--Vivien
Here's my suggestion for taking the class: You need to do all the homework assignments for every chapter so it will help you understand the subject as well as getting extra credit for it... make sure you go to class every day or listen to the lectlets... and make sure you do all the extra credit... if you do all of these, you'll be more likely to get an A for this class...:)
--Maria
My advice would be to definitely do the homework problems, which help tremendously with the test. I would also recommend reading the book along with taking lecture notes because your tests have information in them that is more thoroughly discussed in your book, although your lectures are great too.


It's also good to take notes from the book as you read, and draw the distributions that are given as examples in the book.


The last thing that I would recommend is trying to understand statistics, not just memorize the equations. When you do that, the class is so much easier to understand.
--Ruff
My advice would be for distance ed students to try to get together during the semester and chat about the class, homework, problems, or solutions. This method seems to help in other D.E. classes and could be a real advantage here too.
--Mary
I wish there was advice when I first started the class!

For both live and distance-education classes I would tell them to pay strict attention to the side notes (in the textbook margins) and definitely listen to the lectlets whether they are distance ed or not. For me, it really made a difference in my comprehension of difficult principles.
--Monica
I think it is a very good idea to have input from prior students because an online course- especially this course!- can be very intimidating.


I found that the strong points of the course were in the organization of the material. There was not any concept that I could not learn if I just went back and listened again to the lectlets or went over the ESTAT lessons again. I found they were more helpful than the book, which was easier to get lost in.


My best advice is to make sure to set aside Monday night or a night early on in the week to do the lectlets and quizzes because they are due on Fridays. Make it like an actual classroom hour. Too many times I had to rush a quiz out in the end because I procrastinated.


I really felt that this was an easy class to comprehend if you put the normal amount of time in to it you would any class -- nothing extraordinary. It is that explicative and interactive.
--Tiffany

PSY210: Introduction to Statistical Methods
Labs and Quizzes
Labs:
Labs are found on the
Personal Trainer
website and are available 24/7. Labs are designed to provide practice in the skills involved in comprehending statistics. There is a lab for each textbook chapter.
The labs include frequent interactive text-entry cells. These are valuable exercises that test your comprehension, but they are not saved and they do not count toward your grade. Each lab is designed to prepare you for the corresponding quiz.
Quizzes:
Quizzes are found on the
Personal Trainer
website and are available 24/7. There is a deadline for each quiz; deadlines are found in the class
Schedule
.

PSY210: Introduction to Statistical Methods
Homework
Required homework is Section A and Section C at the end of each chapter (except that Chapter 1 has no Section C).
Homework is due on the day of the exams for the relevant chapters. If you take your exam at UNLV, turn in homework to your exam proctor. Otherwise, scan or take pics of the homework email to
PSY210.homework.1002@gmail.com
. There is no specified format: pencil on paper is fine.

PSY210: Introduction to Statistical Methods
Examinations
For students who have been vaccinated for COVID-19, examinations 1, 2, 3, and 4 will by proctored by UNLV employees on the UNLV campus (at a location to be announced).
If you are not vaccinated, or are a student remote from UNLV, you may take examinations 1, 2, 3, and 4 using a service provided by ProctorU. This service costs approximately $25 per exam; click here for more information.
It is possible that in response to COVID, the proctored-at-UNLV option will be cancelled, in which case exams for everyone will be administered using ProctorU.
When: Whether at UNLV or by ProctorU, examinations 1, 2, 3, and 4 will each last 75 minutes and must begin between 8:00 a.m. and noon on the day scheduled (you may begin at any time in that window).
How: Each exam will have 33 multiple-choice/true-false questions (you will enter answers directly into your browser) and two pages (17 points) of written (computational) questions.
Crib sheet: These examinations will be closed book and closed notes. However, you may prepare and bring to each exam one 'crib sheet' using one or both sides of an 8.5 X 11 inch piece of paper.
Formulas and tables: We will provide a pdf that includes the equations that are shown in the inside front and back covers of your textbook and the tables from Appendix A. You should print that pdf and bring it with you to the exams.
Calculator: You may use a calculator during the exam.
Exam 5 and the Final Exam will be untimed and open book.
They are both due at the time shown on this schedule (which is the time shown for the final exam in the UNLV course schedule).
NOTE: I take an extremely dim view of cheating, and will recommend penalties as extreme as the UNLV Code allows.
PSY210: Introduction to Statistical Methods
Exam Procedure using ProctorU
If you are unvaccinated or are remote from Las Vegas, you will take exams using ProctorU, which will charge you approximately $25 for each exam. Additional information about ProctorU can be found
here
.
Additional instructions for taking PSY210.1002 exams using ProctorU will be here.
PSY210: Introduction to Statistical Methods
Grades
This course has seven 100-point scores: Exam 1, exam 2, exam 3, exam 4, exam 5, the cumulative final exam, and the quiz composite.
The 'Quiz Composite' score is obtained by dropping the two lowest quizzes and adjusting to make it a 100-point score: There are 19 quizzes, each worth 10 points, for a total of 190 quiz points. We will drop the lowest two quizzes, giving a total of 170 points. The 'quiz composite' is the sum of all your quizzes (minus the dropped two) multiplied by 100/170, making the quiz composite have a maximum of 100 points.
We will drop the your lowest score on the five chapter Examinations and the quiz composite score. (The Cumulative Final Exam is not droppable. We will drop the quiz composite if it is your lowest score.)
Your final grade will be therefore based on six equally weighted scores: the best five of the Examinations and quiz composite, and the Cumulative Review Final Exam.
Each of those scores is worth 100 points. Therefore your final grade will be based on 600 points. Grade categories will be 10% wide; thus an A will be 540 points and above; a B will be 480 points and above, a C will be 420, a D 360, and and F 359 and below.
Homework will 'soften' the edges of these categories. For example, if your total points is 539 and you have done no homework, you will receive a B. However, if you have done some of the homework, you will receive an A. The more homework you have done, the more lenient we will be.
There will be no make-up exams. If you miss an exam, that will be the score that will be dropped.
PSY210: Introduction to Statistical Methods
Submit comments on this syllabus